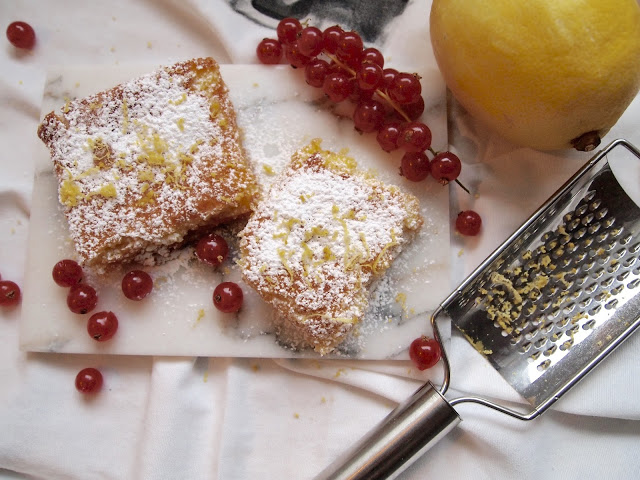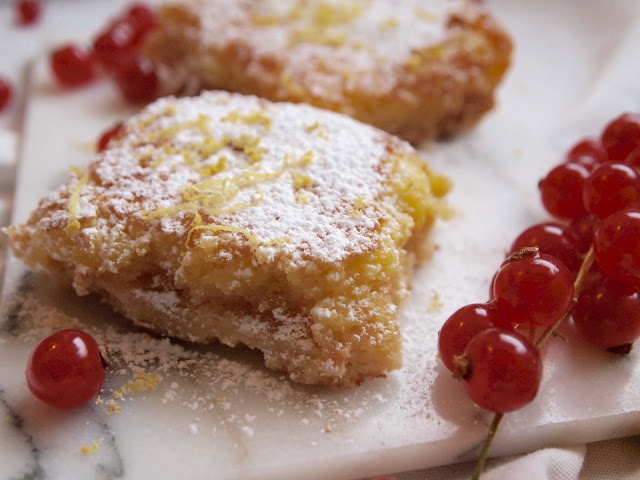 Photos: ladybird
Se for deg at Fox var en kake. En seig, crunchy kake med frisk smak av sitron. Det er akkurat hva disse stykkene med «Lemon Bars» er. Jeg kom over et bilde av disse veldig fristende kakestykkene på instagramprofilen
@kristine___marie
(en profil du også bør sjekke ut for deilige, friske og fargerike hverdagsbilder!), og jeg kunne ikke annet enn å be pent om oppskriften. Da fikk jeg en link til en amerikansk blogg, Dandelion Mama, og innlegget
«The BEST Freaking Lemon Bars on Earth»
. Og jeg har jo aldri smakt en Lemon Bar, så jeg har null sammenligningsgrunnlag. Men la meg si deg en ting, dette er faktisk en av de beste kakene jeg har smakt, og da hadde jeg i tillegg stekt den litt for lenge! Mannen, som egentlig ikke er noe glad i sitron, sa seg helt enig. Den er saftig og seig, sprø og vanvittig frisk. Den er litt som en brownie, bare med samme friske smaken som Fox – høres ikke det digg ut a?
Kristine Marie tipset meg forresten om å halvere mengden med bunn, slik at den ikke blir så tykk – og det var virkelig å anbefale!
For My International Readers
Until some days ago I had never tasted Lemon Bars, I didn't even know what i was. Then I saw a very tempting picture on an instagramprofile, @kristine___marie, and I just had to ask her for the recipe. She gave me the link to an American blog called Dandelion Mama, and the post called «The BEST Freaking Lemon Bars on Earth». Kind of promising, right!? And guess what, even though I overcooked it a bit, it is truly one of the best cakes I have ever tasted! It's chewey, gooey and taste so fresh! I tell you – give this one a try! Kristine Marie also adviced me to halve the amount of crumble, so it doesn't get to thick, and I really advice you to do the same.
And let me tell you, you have to make this cake!