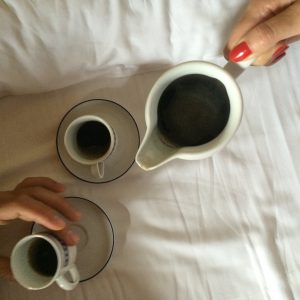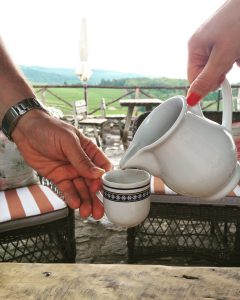 Vi har lagt oss til noen nye vaner her i Italia. Og en av de er espresso time. Den vanlige kaffen er nå byttet ut med kruttsterk espresso. Den aller beste lager Marco på gården der vi bor. Hver morgen lager han en rykende, fersk kanne med espresso til oss. Som nytes i senga, i hagen eller i vinduskarmen.
For my international readers
Italy made us drink espresso. New habits are evolving. The normal black cup of coffee has been replaced by a small cup of hot, strong espresso. Sure gonna take this new habit home!
Marco, the owner of the place we stay, makes the best espresso. Every morning he makes us a new mug of espresso. To be enjoyed wherever we want – in bed, in the garden or sitting in the window overlooking the wine yards.